Berikut ini kumpulan Free VST Reverb :
Silahkan ditambahkan jika kawan-kawan ada rekomendasi yang lain ;-)
1. epicVerb
link download
:
https://varietyofsound.wordpress.com/downloads/
deskripsi :
The "epicVerb" reverberation device aims at both: Tight small room and ambience effect simulation well suited to modern drum and vocal productions up to large "epic" halls as known from high quality outboard gear. This reverbs sound ranges from rather concrete or even edgy up to smooth, transparent and artifact free reverb tails. It is designed for maximum flexibility and usability and to take place as a true high quality stereo main reverb.
2. Voxengo OLDSKOOLVERB

link download : http://www.voxengo.com/product/oldskoolverb/
deskripsi :
OldSkoolVerb is a freeware algorithmic reverberation AU and VST plugin for professional music production applications. This plugin implements a kind of "classic" stereo reverb algorithm which is technically simple yet optimal. It also produces a very clear spatial image that blends well with the mix.
Ambience
link download : http://magnus.smartelectronix.com/
deskripsi :
Ambience is a reverb that rivals the quality of the best commercial reverbs.
[url=]Tal-Reverb[/url]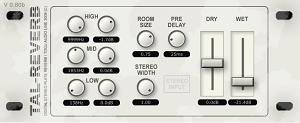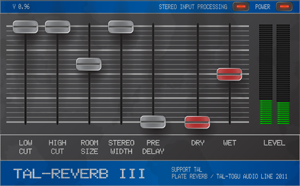 link download[b] :
[b]https://tal-software.com/products/tal-reverb
https://tal-software.com/products/tal-reverb-4
deskripsi :
Modulated vintage reverb sound.
Very diffuse sound.
Fast build up time, also with long reverb sounds.
Works on almost every audio material.
Easy to use.
Reverb SOLO
link download : https://reverb.com/software/effects/acon...everb-solo
deskripsi :
From bright, nearly slap-back echo, to elongated cavernous rumbles, this first partnership between Acon Digital and Reverb.com brings an entirely new ambience to your tracks. With just one knob, you can dial in short, bright reverb for a small room, up-front vibe, or long, dark reverb that places your mix in deep space.
Kjaerhus CLASSIC REVERB
link download : http://www.vst4free.com/free_vst.php?plu...rb&id=1872
deskripsi :
Classic Reverb is a nice and smooth stereo reverb that does a good job on almost any instrument